My background of life & work experience includes environmental study, community action, and business development, beginning as a child working on my first local campaign and charity fundraiser, and now spans two decades and four continents.
The purpose of all my life's work is to find my lebensblut, or ikigai: my purpose.
For me, it is to help people help each other transition to a green economy & to embrace lifestyles of health & sustainability. Over time, startups & innovation became my thing, inspired by deep ecology and a drive to create a world that works for everyone.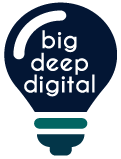 big deep digital is a new kind of boutique 'do it all' agency that builds websites, designs brands and creates strategy for mission driven ventures, projects & people.